A Real Time Saver
XLQ allows you to work with market data in the way you want. No interface or program design restrictions. Create your own layout or easily modify any existing spreadsheets to have them always updated and up to date, even in real-time.
Built for Everyone
XLQ is used by the individual investor for basic portfolio management or following of trailing stops. By financial advisors, journalists, newsletter editors, financial institutions and professional traders in many different markets around the world. It is used for investment tracking, financial analysis, decision making, risk assessment, back-testing, and as the core of trading systems.
Free Direct Support
XLQ has been constantly developed and improved since 2000, making it a stable, reliable and time-tested solution. But if you have a problem, a question or a wanted feature, support via email is direct with the programmer.
45 Day Trial Period
Not sure if xlq is for you, or will cover your needs? Just download and try it. You may install and use a fully functional version of xlqPlus, no limits, no nag screens, no timeouts, for 45 days before deciding if you wish to purchase.
Want to try XLQ free for 45 days?
Download a trial now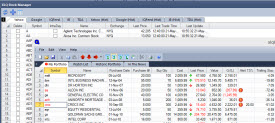 Core Features and Benefits!
Supports Microsoft Excel 2000 to 2019 (Windows Vista to 10).
Available in 2 versions, xlqPlus and xlq2 (32 and 64 bit).
Over 300 different formulae.
Work with multiple data sources simultaneously (free and subscription).
Historic, Streaming, Real-time, Delayed and Intraday quotes.
Detailed fundamental data (xlq provides an excel and com interface to AAII's renowned Stock Investor Pro Database).
Covers worldwide stock, index, fund, options, futures and currency data.
Built in Trailing Stop calculations and alerts via xlqCompanion.
May be used through VBA to create custom formulae and analysis routines as well as via excel charts.
Data Sources
* - requires xlq2
Feature List
Base Functionality
xlqLite
xlqPlus
xlq2
XLQ Data engine, including the stock manager and data views available by right-clicking the Q in the task bar.
XLQ2 data engine

Enhanced data processing (redesigned to handle more data simultaneously.
Enhanced views (can filter data across multiple columns) including symbol selection.
Historic Period View to view data for all symbols for a specific market day.
Norgate views covering all underlying symbols from Norgate Data includes summary and constituent views.
Extra views covering dividends, splits, earnings and financials.

COM interface. Use formulae from any program or programming language supporting COM.
xlqCompanion. A grid based portfolio or stock list manager.
Formulae (for more details, choose Resources / Formulae help from menu at top of page)
Day formulae
Around 40 formulae covering basic historic price information such as price, bid, ask, size, volume, high, low, time, yield, price per earnings etc.
Day formulae (additional)
Over 70 extra formulae covering other information such as dividend amount, institutional %, beta, open interest, delta, gamma, vega, theta, rho, volatility, split date etc.
Day formulae (more additional)
Over 40 extra formulae covering other information such as short interest, insider %, float, cash, debt, revenue per share, revenue per employee etc.
'xlqh' Historic Formulae (day, week and month)
Around 40 formulae covering basic market information such as open, close, low, high, volume, change (and %)
and additional calculated values based on preference settings such as SMA,EMA, MACD, True Range, DMI, ADX etc.
'xlqh' Historic Formulae (additional)
Around 50 pre-calculated formulae (based on preference settings) such as RSI, CCI, LSMA, Stochastics, Williams %R, Bollinger Bands, Kaufmann Er, PPO, PSAR, Force Index, Trix, Fractal Dimension, Connors RSI, Keltner Channels, Vortex Indicator etc.
'xlqxh' Historic Formulae
Same as 'xlqh' but allows for 'on the fly' calculations with intervals and options specified as parameters for unlimited calculation possibilities (around 70 formulae). Possible to calculate results on a series into the current trading day and last real-time price.
'xlqrh' / Historic Range Formulae
Returns calculation results based on start and end dates. e.g. highest close or date (or highest high, lowest low etc.), drawdown or drawup, rate of return, StdDev, mean etc.
'Historic Formulae (additional)
Extra historic formulae covering the extra data available via xlq2, including for

Historic Dividends
Historic Splits
Historic Constituent info
Historic Earnings and Financials
xlqhNorgate returning over 150 financial / fundamental values form Norgate data

Intraday Formulae
Like historic data, but on an X minute interval returning basic market information such as open, close, low, high, volume, change, or for tick data bid + size, ask + size, last price + size.
Backfill data is automatically requested from supported sources.
'xlqxi' Intraday Formulae (additional)
Like the xlqxh formulae, returns calculated results on an X minute interval for around 70 formulae.
xlqaaii formula
Returns results for over 3000 fields from the AAII Stock Investor Pro database (if installed).
Covering income statement, balance sheet and a lot of other financial and fundamental data for listed companies, as well as their sector and industry.
xlqaaii custom formula
Over 50 additional values calculated on AAII data includinge for

EBITDA
Equity Sustainable Growth Rate
Leverage
Excess Cash
net operating profit after tax (NOPAT)
NOPAT Return On Invested Capital
Owners Earnings ROIC

Full list included in additinal sample xls.
Supported Data Sources
Yahoo
Interactive Brokers
IQFeed
TDAmeritrade
Tiingo
AAII Stock Investor Pro
CoinMarketCap
IEX
Norgate Data
Stockwatch
Notes:
not all data-sources return the same information. Certain formulae would only return results depending on the source used.
xlqLite is no longer sold, it ismaintained for existing subscribers only.
LATEST NEWS:
15 March 2019
XLQ 6.4 released
Stockwatch - new source with a difference.
CoinMarketCap - again supported via their new service
InteractiveBrokers - latest API supported.
SuperTrend - new formulae.
Improved Real-time / day data handling.
More. >>
Current Offers
1 year of upgrades included
Purchase xlqPlus for $159
Purchase xlq2 for $299